AMPCO® Non-Sparking Tools
---
Marine Chemist Service (MCS) is an international distributor of Ampco® non-sparking, non-magnetic, corrosion-resistant safety tools . Ampco® (originally American Metal Products Company) has been manufacturing quality tools for safer workplaces since 1922. Since that time, they have been the innovator of over 2,200 imperial (English) and metric style tools, which makes it particularly challenging to list all of the items in their vast inventory. Nonetheless, below is a starting point for Ampco's enormous range of products. Also, keep in mind many of their items come in a variety of sizes and styles (including fiberglass handles for superior performance and tolerance to adverse environmental conditions).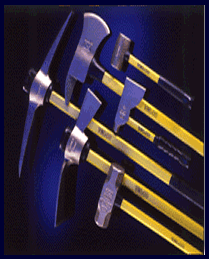 axes, hatchets
barrel hooks
bars
brooms, brushes
buckets, dust pans
chisels
clamps
crate opener
drift pins
files
forks, hoes
hammers
knives
mallets
marlin spike
picks
pliers
pinch and pry bars
rakes
ratchets and sockets
scoops
scrapers
screwdrivers
shears and snips
shovels
spatulas
wrenches (adjustable)
took kit (HAZMAT)
took kit (marine*)
tool kits (variety)
wedges
wrenches (box, open)
wrenches (bung)
wrenches (monkey)
wrenches (striking box)
* designed and sold exclusively by Marine Chemist Service, Inc.
Not surprisingly, Ampco® offers the largest, most comprehensive line of non-sparking, non-magnetic, corrosion-resistant hand tools in the world. This remarkable achievement was made possible, in part, by the discovery of aluminum-bronze back in 1914; an alloy hard enough to cut steel. A little over two decades later, Factory Mutual Research Corporation (a not-for-profit organization engaged in scientific research and tests related to loss prevention) approved their discovery for non-sparking use. Since the early part of last century, Ampco® has been recognized as a leader in safety tools; and below is a listing of industries that agree:
Firefighters
Chemical Plants and Solvent Manufacturers
Shipbuilding and Repair
Construction
Railroads
Sewage Treatment Facilities
First Responders
Petroleum Refineries and Storage Tank Facilities
Ship Operations
Food and Beverage
Steel Mills
Utilities
Despite the large representation mentioned above, Ampco® has the capacity to produce items in accordance with specific customer requests. As a result, they regularly manufacture small quantities of custom and irregular size tools. In addition, Ampco® has developed a range of special copper alloys tailored to meet a variety of mechanical requirements. Their advanced technical knowledge of the chemical and mechanical properties of non-sparking metals makes Ampco® well suited to provide quick solutions to any need. Ampco's attention to application and design has even allowed them to offer a comprehensive, lifetime warranty.
All Ampco® tools meet applicable ANSI, DIN, Federal, GSA and Military standards. In addition, their safety tools conform to the requirements of the Bureau of Indian Standards, the Mine Safety and Health Administration, the National Fire Protection Association, OSHA and the U.S. Navy (Re: para. 3.9).  Many of the country's leading safety engineers and insurance companies also recommend Ampco® safety tools
Where are Safety Tools Used?
Over 2 million accidents and 10,000 deaths are reported each year in the United States from the misuse of hand tools. When dealing with hazardous or flammable conditions (whether explosive vapors, or combustible materials and residues), non-sparking safety tools are a must. They are recommended anytime there is a potential for ignition by mechanical sparks in areas where flammable dusts, gases, liquids, vapors, or even combustibles residues are present:
Non-Sparking Application
From ammunition to tankers, the risk of igniting flammable and combustible products is very real. Those risks, however, can be minimized through the use of Ampco® non-sparking tools. Commercial and industrial users of non-sparking hand tools include, but are not limited to:
Aircraft and Aerospace
Ammunition, Explosives, Pyrotechnics
Battery Manufacturing and Storage
Boating and Shipping
Chemical Manufacturing
Coke By-Products and Gas Plants
Confined Spaces containing Explosive Atmospheres
avgas
mogas
sewage (a.k.a. "CHT")
newly spray painted areas, before paint has cured
voids and hollow structures containing hydrogen gas
other flammable products, or anywhere the "LEL" has been exceeded
Distilleries
Flammable Paint Lockers
Food and Beverage Silos, Vats and Storage Tanks
Fueling Stations
Geophysical Exploration
Grain Storage
Hazardous Materials (HAZMAT)
Handling and Storage
chemical spill cleanup
hazardous response
Gasoline Powered Machinery Manufacturers
Mining
Natural Gas Utilities
Nuclear Power
Paint, Varnish and Lacquer manufacturing and finishing
Petrochemical and Petroleum Refining and Storage
Pharmaceuticals
Pipeline Inspection and Repair
Plastic and Rubber Manufacturers
Propane Distributors and Bulk Plants
Sewage Treatment Facilities
Shipbuilding and Repair
tank cleaning (a.k.a. "gas-freeing")
Spray Painting and Finishing
Tankers, including Road, Rail and Marine
Utility Manholes, Tunnels and Vaults
Warehouses containing Flammable Products and Materials
Non-Magnetic Applications
Ampco® safety hand tools are manufactured from alloys that have the added feature of being non-magnetic. They are tested to achieve the requirements set forth by the United States government for non-magnetic tools. This requirement states that when tested with a magnetic permeability indicator conforming to Military Specification MIL-I-17214, the magnetic permeability shall not be above 1.2 on the indicator scale. Consequently, Ampco® tools can be used near sensitive, magnetic equipment. The following examples of industries have benefited from using Ampco® non-magnetic tools:
Aircraft
Electrical Machinery
Electronics Manufacturers
Medical Diagnostic
Nuclear Products
Public Utilities
Electric
Telecommunications
Non-Corrosive Applications
Ampco® safety tools do not rust or corrode. Consequently, they do not contaminate foods or other products demanding high purity. Ampco® safety tools are also used in marine environments where corrosion can compromise the effectiveness of other tools and therefore pose a potential safety hazard during use. Here are a few of the industries and end-users that benefit from using non-corrosive hand tools:
Breweries
Canning Manufacturers (acids, bases, solvents)
Other Food and Beverage Manufacturers including
Grain Handling
Pharmaceutical Manufacturers
Plastic and Insulation Manufacturers
Ship Owners, Operators and Yards
For more information on Ampco® safety tools, answers to questions regarding specific applications of non-sparking, non-magnetic and non-corrosive hand tools, or to obtain a full color catalog containing Ampco's complete product line, please contact either Customer Service here at Marine Chemist Service , or Ampco® directly:
Ampco® Safety Tools
c/o Marine Chemist Service, Inc
204 Barnes Drive
Garland, TX 75042
Phone: 800-580-9835
Among the many things Ampco® and Marine Chemist Service have to offer, one is a free Hand Tools Institute (HTI) Hand Tool Use and Selection Chart .