Coppus® Portable Ventilation Products
---
Marine Chemist Service (MCS) is a Distributor of Coppus® portable ventilators and cooling products serving those in the Continental USA. MCS also carries their complete line of parts and accessories, including ducting in various lengths. Together, MCS and Coppus® have enjoyed many years of Coppus' approximately 112-year history (since 1909).
Curtiss Wright, the manufacturer of Coppus® portable ventilators, serves virtually every major industry that utilizes industrial fans for safety and maintenance. In the local area of Marine Chemist Service, Coppus® is known as the "Cadillac" of blowers. This perception of exceptional quality has enabled Coppus® portable ventilators to be shipped to many industries around the Country: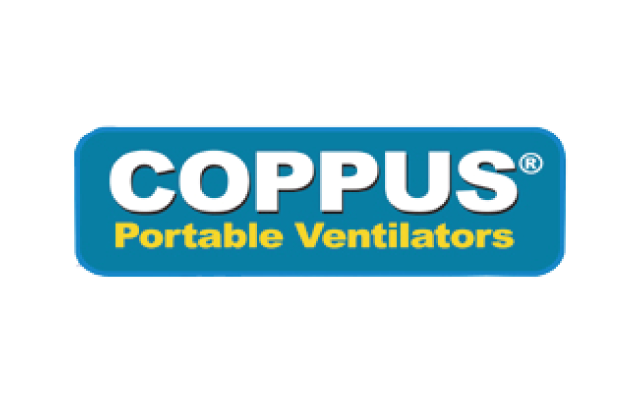 Airlines
Construction
Industrial Manufacturers (especially those with welding shops)
Railroads
Ship Building and Repair (ballast and fuel tanks; voids)
Chemical Plants
Food & Beverage (silos, vats)
Paper Mills
Refineries and others with Storage Tanks (AST's UST's)
Steel Mills
Utilities (manholes, pipe tunnels)
Curtiss Wright has amassed hundreds of years of combined experience in their design and manufacture of Coppus® portable ventilators and a large variety of other products. As a result, their blowers are some of the most reliable sources of supplied, fresh air for safety and maintenance applications that can be found.
Coppus® portable ventilators are manufactured in both centrifugal and vaneaxial designs, with air, electric, gasoline, steam and water driven models available. Some of the more common applications of their ventilators and cooling products include:
Confined Space Ventilation
fresh air supply
toxic removal
Source Capture
Fume exhaust with filtration
Fume exhaust without filtration
Cooling
Equipment Cooling
Personnel Cooling
Process Cooling
---
Below is a partial listing of the top selling Coppus® portable ventilators and cooling products:
CADET VENTILATORS (CAC, VAC, CEP, VEP, CGM)
Versatile, rugged ventilators that deliver exceptional airflow in a compact, lightweight design.
Ideal for utility underground and light industrial confined space ventilation.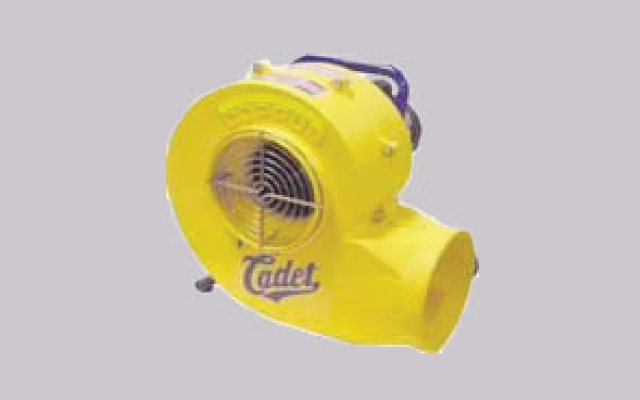 COPPUS® CADET CENTRIFUGAL MODEL
Excellent airflows (up to 1,058 cfm) and pressure performance
Electric and gasoline models available
Flame resistant UL94-V2 polypropylene housing
Glass filled, polyester resin spark resistant fan blade
Fan scroll can be positioned for 45, 90 and 180 degrees discharge positions
Accommodates 8" duct on inlet and outlet end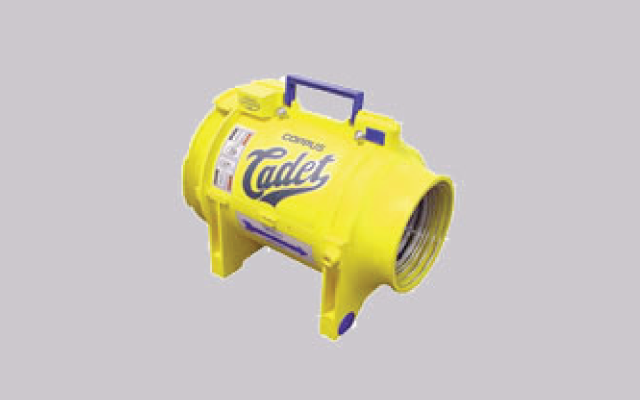 COPPUS® CADET VANEAXIAL MODEL
Airflows up to 1,300 cfm
Electric (AC or DC) models available
Patented inlet converts ventilator from a blower to a blower/exhauster
Flame resistant UL94-V2 rated polypropylene housing
Glass filled, polyester resin, spark resistant fan blade
Accommodates 8" flexible duct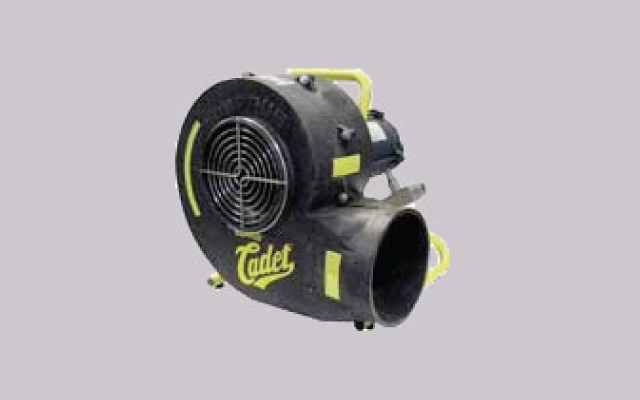 COPPUS® CADET HAZARDOUS LOCATION MODELS
Available in both Centrifugal and Vaneaxial models, compressed air and electric
Housing and components are constructed of special conductive polymers for safe dissipation of static charges
Electric motors meet NEC Class 1, Division 1, Group D; Class ll, Division 1, Groups. E, F,
---
JECTAIR and JECTAIR HORNET VENTILATORS (3-HP, 3S-HP, 6-HP, 8, 9)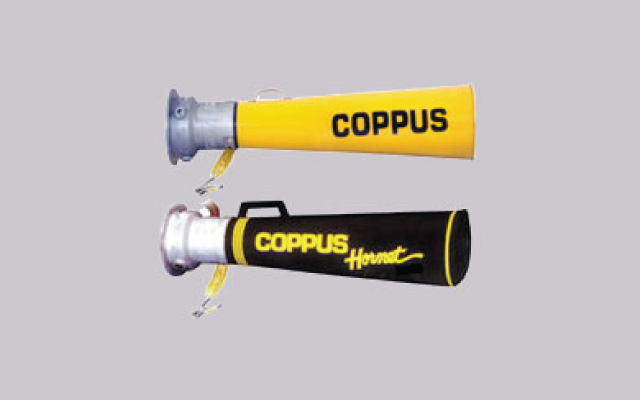 High performance, highly efficient venturi air movers.
Horn shaped diffusers produce 14% more air while consuming 26% less compressed air due to patented mixing chamber.
Available in 5 sizes and up to 15,121 cfm
Multiple expansion nozzles machined into housing
Diffuser material available in aluminum, steel or shock resistant polymer
Coatings and construction materials safely dissipate static electric charges
No moving parts–virtually maintenance free
---
CARGO TANK VENTILATORS (C-12A, C-12AWC, C-15A, C-15AWC)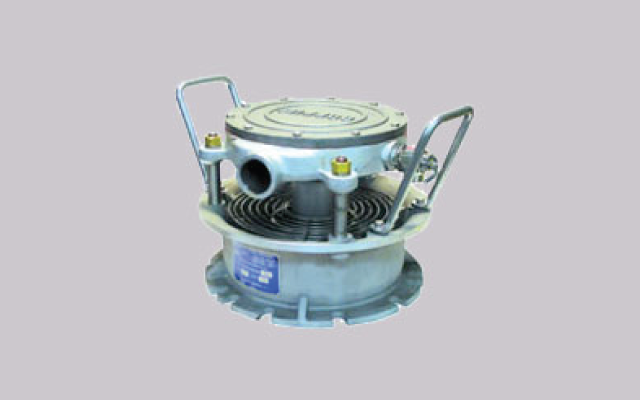 Rugged, dependable tubeaxial ventilators that have supplied the shipping industry for many years. Available in supply and exhaust models, they are ideal for on-board gas freeing, drying and ventilating operations.
Air flows up to 8,400 cfm (supply) and 6,500 cfm (exhaust)
Compressed Air/Steam and water turbine drive models available
Spark resistant cast aluminum fan and fan housing (steam/compressed air models)
Cast iron turbine housing with aluminum cover (steam/compressed air models)
Anodized cast aluminum turbine housing, impeller, inlet-outlet connections (water model)
Permanently sealed lubricated stainless steel ball bearings (water model)
Stainless steel fasteners and protective screens
Adaptors allow ventilators to mate to butterworth openings or attach to flexible duc
---
CP-20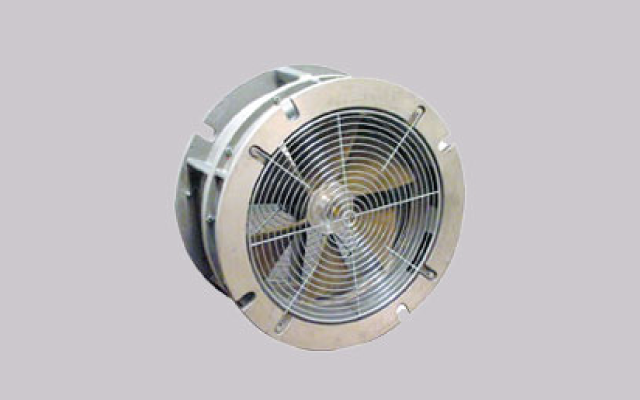 Air or Steam Turbine Drive Blower/Exhauster
Designed for fast and thorough degassing, as well as ventilating or cooling large process vessels such as columns, towers, reactors, scrubbers, furnaces and storage tanks.
Delivers up to 11,200 cfm
Use as blower or exhauster
Cast aluminum housing and fan blade
Stainless Steel turbine blades
Dual inlet stainless steel nozzles expand steam or compressed air up to 150 PSIG
Fan assembly shaft rotates on permanently sealed ball bearings
Fits 20" (508 mm) API tank opening
---
VANO (175CV, 250CV, 500)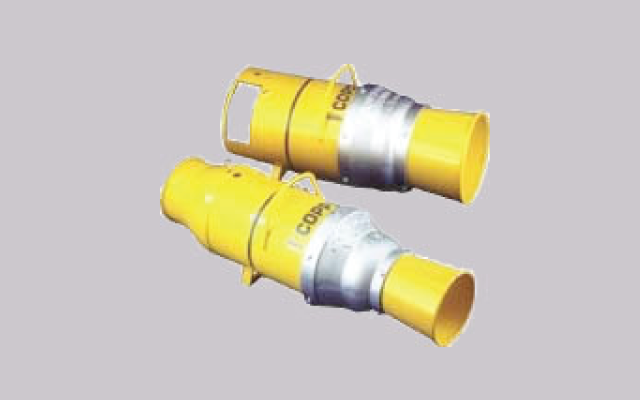 High volume ventilators for exhausting fumes and delivering fresh air supply. Rugged, durable design with outstanding performance. Ideal for ventilating confined spaces, manholes, process vessels, rail cars, tanks.
Airflows up to 5,000 cfm
Available with Totally Enclosed (TE) or Explosion Proof (EP) electric motors
Patented air straightening vanes for unmatched static pressure performance
Spark resistant heavy duty fan blades
Heavy duty, powder coated steel and aluminum construction
Accepts ducting on inlet and outlet ends
Removable inlet sleeve on CV models for exhausting heavier-than-air fumes from tank bottoms
---
SOURCE CAPTURE FILTRATION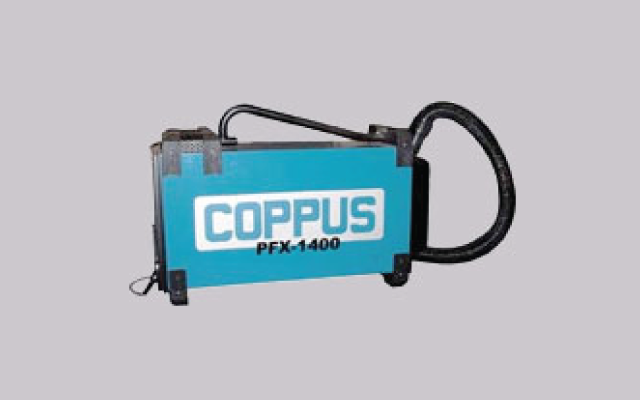 COPPUS® PFX-1400
Highly efficient, personal filtration systems for source capture fume and particle removal. Each can be easily transported to most welding sites and are available with a variety of filter options including HEPA filters.
Automatic Start/Stop function
Filter-full indicator light
2-Stage filtration system (area: 57 square feet; efficiency: 99.7%)
Stage 1 and 2 quickly and easily disassemble for cleaning and filter changes
Separately cooled motors -not affected by filter loading
8' x 1 3/4" hose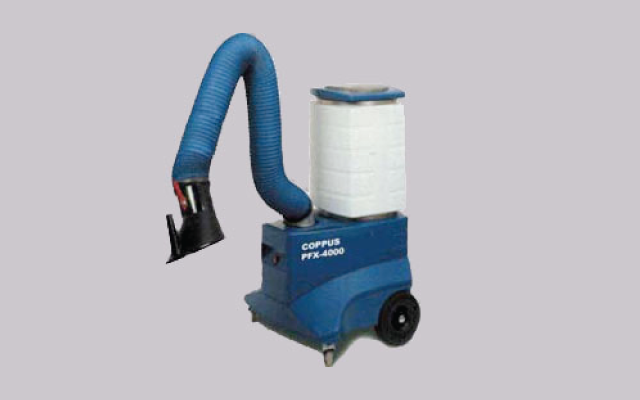 COPPUS® PFX-4000
Industrial designed self-contained, mobile filtration cart featuring a 7' or 10' fume arm with lighted hood, powerful fan and 3 different filter options.
Heavy duty chassis
Front locking casters
Dust free filter replacement (area: 225 square feet; efficiency: 98% on standard filter)
Available with Cellulose (standard), Micro or Micro/Gas filters
Flexible 7' or 10' fume arm with lighted hood (see accessories)
---
COLD FRONT INDUSTRIAL EVAPORATIVE COOLING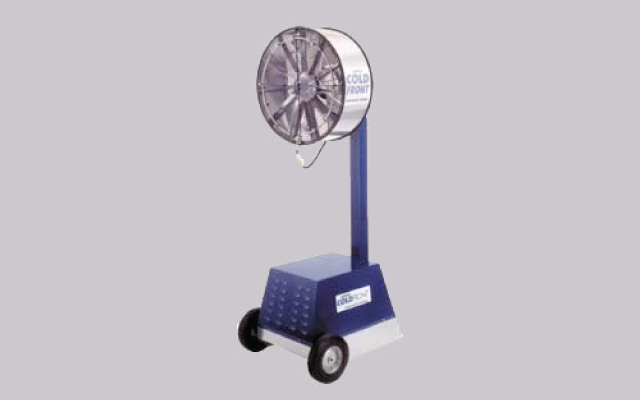 A complete unit that creates a fine cooling mist, reducing the ambient temperature by a maximum of 40 degrees F.
Heavy duty, 2-speed fan motor delivers 5,280 cfm
Fixed guide vanes improve air flow
Fan Head oscillates in 450 arc and tilts 180 up and down
Large semi-pneumatic wheels for easy mobility
High performance, tri-plex pump will accommodate up to 5 additional misting rings
Uses standard garden hose connection and 115V electric circuit
GFCI receptacle for added safety
Heavy duty, completely enclosed base protects pump, pump motor and water filter
---
DOUBLE DUTY HEAT KILLER (18K03D, 24K07D, 24K10D, 30K30D)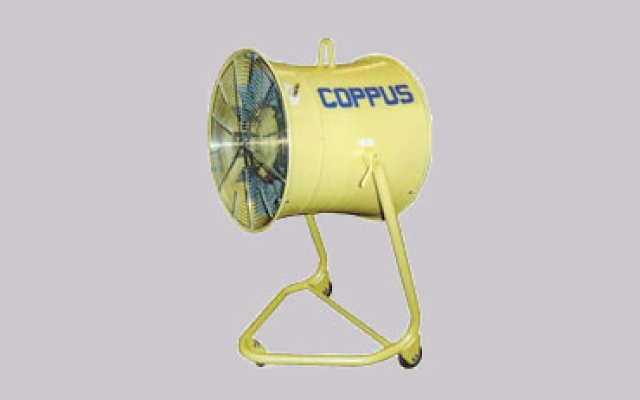 Powerful fan for cooling products, processes and personnel.
Airflows up to 17,000 cfm (one of the most powerful portable air movers available)
Patented vane guides adjust air flows from a gentle breeze to a concentrated jet blast
Available with Totally Enclosed (TE) and Explosion Proof (EP) motors
Motors are either single speed or two speed (18″ and 24″ models)
Available in 18", 24" and 30" models
Models available in floor stand (high and low style) or wall mount (stationary and oscillating)
Protective screens meet OSHA standards.
Hazardous Location switches and motors meet NEC Class I, Division I, Group D
and Class II Division I, Groups F & G. Thermal overload protecte
---
In addition to the products most often requested above, there are many other reasons for calling on Coppus® and Marine Chemist Service. Both offer free technical assistance in the operation of Coppus® portable ventilators and accessories. They also offer several technical papers that should be of interest, including Blower Markets by Industry and Application, Instructions for Injecting Fuel Oil, Kerosene and Lube Oil Into Blowers Handling Sewage Gas, Recommended Lubricants for M-D Rotary Blowers and Vacuum Boosters, and Recommendations and Guidelines for Water/Liquid Injected Blowers. Furthermore, they both have training facilities which afford their clients many opportunities to learn about ventilation principles, especially those specific to their needs. The Coppus® training room is 15,000 square-foot and has electronically adjustable stadium seating. Marine Chemist Service, on the other hand, has taught well over 11,000 students. Coppus® and Marine Chemist Service also operate a "Demo Van" in the Tidewater area of Virginia at least once each year. This van is equipped with the most popular ventilators and cooling products and is available for hands-on demonstrations, product review, and further training. Speaking directly to Technical Engineers, obtaining hard copies or PDF drawings and/or parts lists, and receiving full 1-year warranties round out only a fraction of the other reasons for contacting either Coppus® or Marine Chemist Service.
For more information on Coppus® portable ventilators and cooling products, answers to questions and helpful suggestions for your specific applications, or a full-color catalog containing Coppus' complete product line and more, please either contact Customer Service here at Marine Chemist Service.