Non-Destructive Testing & Examination
---
Nondestructive Testing (NDT, and sometimes NDE where E = Examination) is a collection of analytical techniques used to examine the integrity of various materials without diminishing the future usefulness of the objects they comprise. Some of the techniques used to evaluate the properties of materials include ultrasound and X-ray, though nondestructive testing in this context has little to do with medical diagnoses. Instead, NDT is routinely used in plant maintenance, quality control, safety, and the like, in order to: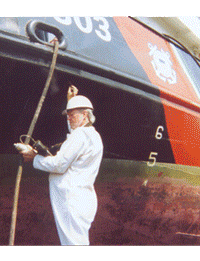 ---
prevent catastrophic failures by indentifying cracks, pinholes, and other discontinuities associated with
areas of strain, stress and fatigue
imperfections
surface flaws
determine the thickness of metal pipe and plate and, thus, prevent leaks
determine the extent of corrosion, friction, and wear
identify problems associated with welds including:
hollow roots
incomplete fusion
limited penetration
minimize costs and production losses associated with
equipment downtime and labor duplication
product failures and liability
damaging products by using destructive or invasive testing methods
maximize product integrity, reliability and, thus, consumer confidence through regular and periodic inspections
help control manufacturing processes and establish uniform quality
and, ultimately, prevent accidents and save lives
according to the American Society for Nondestructive Testing (ASNT) "nondestructive testing has saved uncounted thousands of lives," which is probably why their mission is ". . . to create a safer world by promoting the profession and technologies of nondestructive testing.
---
Marine Chemist Service has been providing Nondestructive Testing services for over 30 years. During that time, their NDT inspectors have gained valuable experience, including intuitively knowing the needs of their clients. Sometimes emergency or even urgent situations occur, necessitating an inspection at times other than during regular business hours. Consequently, the NDT inspectors at Marine Chemist Service are on-call 24/7 to help their clients, especially in these types of situations. And since time is of the essence, preliminary results and field-drawn sketches are made available upon request. Of course, they are always followed-up with formal, computer generated reports and drawings at a later date.
The Nondestructive Testing division at Marine Chemist Service has expanded its capabilities over the years as well. In addition to servicing the shipbuilding and ship repair industries (including Military Sealift Command, U. S. Navy and U. S. Coast Guard), MCS also services the petroleum (oil and gas) industries, refining and storage facilities, aerospace and automotive industries, theme parks, and a host of private contractors, both large and small. Below is a partial listing of test objects the NDT division inspects for these industries:
Boiler Tubes
Bridge Beams
Crane Hooks
Combustion Engine Blocks and Pistons
Heat Exchangers
Hull Thickness
Motor Shafts
Pipelines
Pressure Vessels
Propellers
Storage Tanks (AST's and UST's)
(other) Structural Elements
---
As one might expect, Marine Chemist Service has established a rigid QA/QC program to monitor the quality of inspection services provided by their Level II Inspectors. In addition, MCS has two certified Level III Examiners for consultation, plan/specification review and writing, and training. All of MCS personnel are certified/qualified in accordance with the American Society for Nondestructive Testing's SNT-TC-1A and the U.S. Navy's NAVSEA T9074-AS-GIB-010/271. Furthermore, their procedures have been stringently reviewed and approved by MARMAC, Portsmouth, VA, including their Ultrasonic Testing procedure for testing metal through paint. Marine Chemist Service is also certified by American Bureau of Shipping (ABS) for plate thickness measurements of hull structures on commercial vessels and is annually inspected by the Virginia Ship Repair Association (VSRA), formerly known as South Tidewater Association of Ship Repairers (STASR).
The list below summarizes the Nondestructive Testing services offered by MCS:
Eddy Current Testing, ET
–a NDT method that uses a magnetic field to induce an electric current in metal in order to detect surface and shallow subsurface discontinuities
currently under investigation
Liquid Penetrant Testing, PT
–a NDT method that uses a black light and fluorescent dye, or a visual dye, to detect discontinuities of any non-absorbent, uncoated surface
visual dye penetrant method (Group I)
visual dye penetrant method (Group III)
water washable fluorescent method (Group IV)
Magnetic Particle Testing, MT
–a NDT method that uses magnetism and fine ferromagnetic particles to detect surface and some subsurface discontinuities
dry powder method
wet fluorescent method
Ultrasonic Testing, UT
–a NDT method that uses high frequency sound to pass through and reflect back to an electronic detector in order to measure thickness, as well as detect discontinuities in many materials
calculated percent deterioration, wastage
inspection of silver braze pipe joints
shear wave inspections of welds
thickness measurements, even through paint
Visual and Optical Testing, VT
–a NDT method that makes use of reflected and transmitted light and has many applications
detecting discontinuities on surfaces
gauging
Other Level II and Level III Services
Competitive pricing including hourly, per reading, and by the job
Consultation
Guided Bend Tests of Weld Performance Qualifications
Training Classes
Welder Qualifications
---
The value of regularly scheduled Nondestructive Testing is internationally recognized as being a relatively inexpensive technique that has tremendous benefit. NDT promotes early warning signs on machines and systems that, otherwise, could have negative impacts ranging from production to public safety. Even lives can be impacted. Consequently, regularly scheduled Nondestructive Testing helps prevent catastrophic failures by keeping everything running smoothly, and the NDT inspectors at Marine Chemist Service are ready to help.