---
Coronavirus could mean fewer ships coming to the Port of Virginia (Re: The Virginian Pilot)
In the News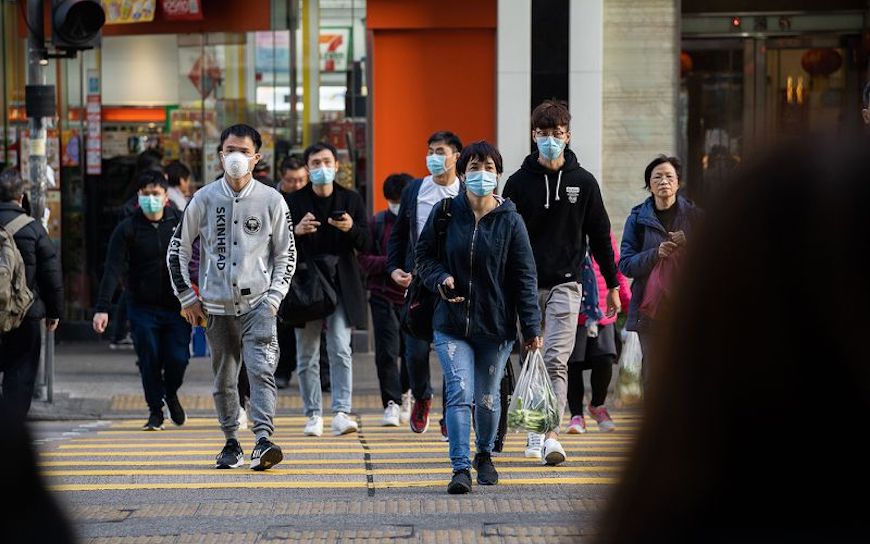 Photo: Residents wear surgical masks while crossing the road in order to prevent the spread of the Wuhan corona virus on Thursday, Jan. 30, 2020 in Hong Kong. The World Health Organization called a meeting of its Emergency Committee Thursday to consider issuing a global alarm as the death toll from the spreading coronavirus rose to 170 and the number of cases jumped to more than 7,000. (Geovien So/SOPA Images/Zuma Press/TNS)
The deadly outbreak of the novel coronavirus in China is causing a worldwide slowdown in the shipping industry as that country extends its New Year. That could mean fewer ships coming to and from Hampton Roads.
"It doesn't help. There's no doubt about that," Alan Shaw, the executive vice president and chief marketing officer of Norfolk Southern, said during an earnings call last week when asked about the virus. The corporation operates the world's largest coal pier along the Elizabeth River.
Shaw said the company has spoken with its customers, but remains unsure how large the impact will be.
"It's all speculation," Shaw said. "So we're paying close attention to it, as are the steamship lines that we serve."
Also paying close attention: the Port of Virginia. That's because China is one the port's top trading partners.
Ship calls at or through major Chinese ports have decreased by 20% since Jan. 20, The Wall Street Journal reported. China has extended its new year until Feb. 9, celebrations that annually curtail factory production. The country's contributions to global trade will be cut by about six million containers, according to the research firm Alphaliner, as the country responds to the coronavirus.
The coronavirus is not good business for China or anyone else as it will reduce global real gross domestic product by 0.4% in 2020, according to IHS Markit, a global research firm.
John Reinhart, Virginia Port Authority's CEO and executive director, said he is closely monitoring those decreases in volumes and whether they will have an impact here.
"At this point it is too early to make any projections, but we are speaking with our customers to better understand their operating posture as this issue continues to unfold," Reinhart said in a statement.
On Thursday, there were 564 confirmed deaths from the virus in China with a total of 28,060 cases in the country, according to the World Health Organization. The new respiratory illness originated in Wuhan, China, and has spread rapidly. There are 225 cases outside the country, and one death, The New York Times reported.
In the shipping industry, the questions remains whether ports along the East Coast will lose trade altogether or get it back over time as quarantined cities open back up and the country gets back to production.
Ripple effects could extend to those in the trucking community who have said recently they are experiencing a slow period for freight.
"We're having to find other unique ways of sustaining our markets," George Berry, who runs a local trucking advocacy group For Truckers By Truckers, said Thursday.
This time of year is usually a slow time for factories, so impacts of the virus are less severe, IHS Markit said in a report released Thursday.
Port officials in Virginia were already seeing a decline in imports from Asia, including China, as the ongoing trade war between the United States and China rolled on.
In response, ocean carriers have sent out fewer ships than usual, Tom Capozzi, the port's chief sales officer said at a board meeting last month.
From October to December, five ships that normally would have stopped in Virginia and elsewhere along the East Coast didn't come, Capozzi said. On average, those ships loaded or discharged a little over 8,000 containers apiece.
On Wednesday, one major ocean carrier, Maersk, announced six fewer sailings to North and South America because of the coronavirus being linked to the extension of the New Year.
None of those ships stop in Virginia, Mark Szakonyi, another senior editor with the Journal of Commerce, wrote in an email to The Virginian-Pilot.
"It is fair, however, to expect that there will be more blanked sailings due to the extended Lunar New Year holiday and that some of those services could call Virginia," Szakonyi wrote.
He expects shipping volumes to pick back up once production revs up.
The question, he wrote, is whether Chinese factories can catch up with the latent demand.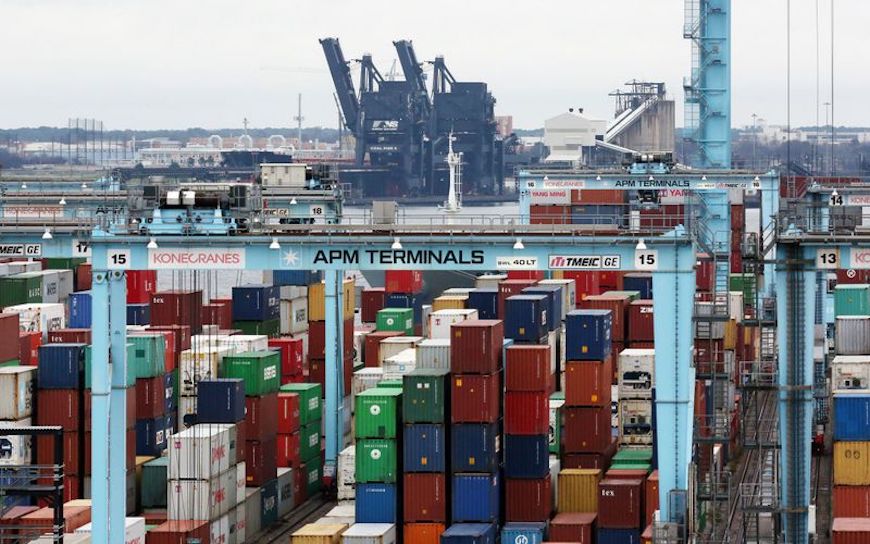 Photo: Containers on the waterfront at Virginia International Gateway in Portsmouth, with Norfolk Southern's coal piers across the river in Norfolk on Dec. 31, 2015. (Steve Earley)
---
Written By: Gordon Rago