Environmental & Industrial Hygiene Laboratory
---
Though the word "Chemist" in Marine Chemist Service suggests a company that provides laboratory services, several decades ago most analyses were originally performed in the field with portable testing equipment. It was not until the late '70's and early '80's when the U.S. Navy took a lead role in removing asbestos from its ships and facilities that MCS built its first permanent laboratory facility in Newport News, VA. During that time, not only did the number of asbestos samples coming through the Laboratory grow exponentially, but also the number of coal, oil and other samples in support of the remaining divisions at Marine Chemist Service.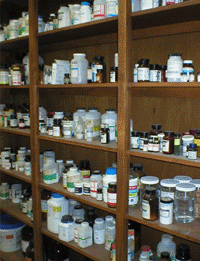 ---
Removal of asbestos (a process known today as "remediation") usually took place late at night and, consequently, went mostly unnoticed by the general public. It was not until the Environmental Protection Agency (EPA) became involved, and asbestos in schools made headline news, that "asbestos" became a household word. Since that time, and due to its continual involvement with asbestos, Marine Chemist Service has been one of the longest, continuously operating asbestos analytical laboratories in State of Virginia.
A number of years ago, Marine Chemist Service decided to consolidate all of its laboratories into a single division. The Asbestos Laboratory (which first became the Industrial Hygiene Laboratory by also offering lead and other heavy metal analyses in air, paint, soil and wipes) combined with what was called the General Laboratory (which, in turn, analyzed everything else from ceramicware to circuit boards, ion-exchange resin to environmental sludge and wastewater). Today, these laboratories are known collectively as the Environmental and Industrial Hygiene Laboratory.
Analysis in the Environmental and Industrial Laboratory at Marine Chemist Service is serious business. Not only are the lives, health and well-being of others dependent upon accurate testing and reporting, but so too is the "life" of the environment. Consequently, such serious commitment goes well beyond traditional GLP's, or Good Laboratory Practices. The results must also be able stand up to the scrutiny of acceptable legal evidence in courts of law–which those from MCS has done several times.
All chemists and biologists are degreed scientists with many years of analytical experience. Many, in addition to other microscopists and technicians, have had highly specialized training from the McCrone Research Institute in Chicago and NIOSH 582 around the country. Overall, the Laboratory consists of a strong team of knowledgeable individuals striving to provide the highest possible standards of professional excellence to their clients.
Approved methodology and testing procedures are used throughout the Laboratory including ASTM, EPA/SW846, Section 402 of the HRSD Industrial Wastewater Discharge Regulations, NIOSH, OSHA and "Standard Methods". In addition, the Environmental and Industrial Hygiene Laboratory participates in many comprehensive, third-party Quality Assurance/Quality Control programs which has resulted in numerous credentials. Laboratory practices from this active participation meet and/or exceed the requirements of all accrediting agencies overseeing their operations. And, the use sophisticated instrumentation, computers and software help with this effort as well.
All of this, of course, takes considerable time. Yet, the Environmental and Industrial Hygiene Laboratory is still able to provide prompt and accurate results, as well as meet any agreed upon deadlines. Laboratory personnel take great pride in their work (even working long nights and weekends–an attribute not commonly found anymore). Through their close relationship with clients, including many other laboratories and fellow coworkers in the Industrial Hygiene division, the Laboratory at Marine Chemist Service understands the pressures and economics regarding late results on the completion of a project. Consequently, they are truly committed to doing their very best, in order to help their clients do their's.
The following is a listing of analyses which the Environmental and Industrial Laboratory at Marine Chemist Service is best known:
Asbestos Analysis
Airborne Asbestos (Phase Contrast Microscopy, PCM)
Bulk Asbestos (Polarized Light Microscopy, PLM)
Metal Analysis
Air (Cadmium, Chromium including Hexavalent Chromium, Lead, Zinc)
Drinking Water (Lead, Copper; and Iron, which is typical of well water)
HRSD "Dirty Six" Metals (Cadmium, Chromium, Copper, Lead, Nickel, Zinc)
HRSD Photo/X-Ray Lab Metals (especially Silver)
Industrial Wastewater (various metals)
Paint, Soil, Dust Wipes (Lead-even from playground equipment, mini-blinds)
TCLP Metals (Arsenic, Barium, Cadmium, Chromium, Lead, Mercury, Selenium, Silver, or any combination thereof)
Microbiological Analysis
Airborne Mold (Fungal Count with Identification)
Bulk Mold (Identification with or without Fungal Count)
Mold Wipe (Identification with or without Fungal Count)
Drinking Water (Total Coliform; Colisure Method)
Other Analyses
BOD5
COD
NH3
NO2-NO3
Ignitability, Corrosivity, Reactivity (ICR)
Oil & Grease, O&G (Non-Saponifiable and Total)
pH
Phenolic Compounds (with all interference procedures performed)
TKN
TP
TSS
Other Products and Services
Rotometers, calibrated and for sale
Sample Bottles (sterile, with and without preservative, sodium thiosulfate)
Sample Cassettes (gravimetric; 25mm and 37mm 0.8u, MCE)
Sample Tracking, Chain of Custody
Sampling Instructions and other literature
Wipe Materials (for dust and residue collection)
Competitive pricing; volume discounts
Confidential, Informative, Personal Service
Normal five working days turnaround
Rapid Turnaround, same and next day service is available
Reliable, defensible data/results required by current regulations
Customized reports in a visually appealing format
Worldwide Clientele in government, industry and the private sector
---
Over the years, the Environmental & Industrial Hygiene Laboratory at Marine Chemist Service has remained focused on its specific areas of speciality. As a result, they are daily adding to the total number of samples analyzed; many of which come from other laboratories around the country. Continual reception of samples from one's own peers, third-party oversight by several different organizations, and an ever increasing sample volume now well over 398,000 are all good indications the quality of analytical work performed in the Laboratory at Marine Chemist Service is something of value.