Certified Industrial Hygienist
---
Marine Chemist Service's Certified Industrial Hygienist (CIH) and Industrial Hygienists are highly trained individuals dedicated to protecting the health and well being of others. Their expertise extends beyond traditional work environments where high levels of noise, chemical storage and use, and heavy industrial processes take place. Hazardous conditions similar to those and more can also be found in commercial buildings, childcare centers, educational institutions and residential homes. Even the environment can give rise to adverse health effects.
Anytime the health and very lives of others are at stake, activities having a potential impact must be taken seriously. Consequently, Marine Chemist Service's participates in several third-party programs that routinely evaluate its ability to properly conduct industrial hygiene inspections (please review our credentials for a complete list of accreditations, certifications, licenses and approvals). And, in addition to corporate oversight, individual CIH/IH's are personally evaluated as well.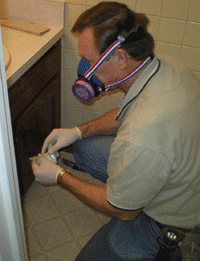 ---
The CIH/IH's at Marine Chemist Service's maintain a number of Commonwealth of Virginia licenses. In order to do that, they must successfully complete state-approved refresher courses each and every year. This continuing education, in addition to extensive field experience, enables MCS' CIH/IH's to effectively anticipate, recognize, evaluate and control a wide range of hazardous conditions. Below is a partial listing of areas Marine Chemist Service's CIH/IH's use to assess the causes of illness, impaired health, significant discomfort and/or inefficiency among workers and citizens of the community:
Air Grab Sampling
Air Flow (differential pressure) Measurement
Abatement Air Monitoring
for Asbestos, Lead and other Metals
Asbestos Project Monitors
Aggressive sampling for AHERA clearances
Lead Project Samplers
Calibration, Pumps and Rotometers (secondary standards)
Consultation
Lead Inspections
Lead Inspectors
including sampling paint chips, soil and water; taking wipe samples for Section 8 clearances
other common sources include china and crystal, imported vinyl, hair dyes, miniblinds and playground equipment
licensed XRF lead analyzer operators (as recommended by HUD guidelines)
Lead Planners/Designers
Lead Risk Assessors
Indoor Air Quality (Sick Building Syndrome) Inspections
Industrial Hygiene Surveys
Noise Monitoring, Surveys and Octave Band Analysis
improve worker safety, productivity
reduce the risk of worker hearing loss
reduce the risk of worker's compensation liability
may reduce or eliminate hearing conservation programs
Respirator Fit Testing
Specifications, Workplace Health & Safety Plans, Job Plans, Program Audits and Regulatory Compliance
on-site, at your facility, or ours
our newest facility is located in Norfolk, VA
---
Marine Chemist Service has one of the largest groups of Industrial Hygienist's in Virginia. As a result, they are able to handle multiple projects at the same time—some of which take them out of state; even overseas. Yet, despite having many of its personnel in different geographic areas, as well as being on-call locally to handle emergencies "24/7", the CIH/IH's at MCS routinely complete their inspections within mutually agreed upon due dates.
Lastly, the Industrial Hygienists utilize state-of-art equipment for taking samples and making physical measurements. Their reports are computerized, and detail every aspect of surveys, analyses and results. And their charges remain so competitive that those listed below call on the CIH/IH's at Marine Chemist Service time and again for their specialized services:
Small Commercial Businesses
Food and Beverage Corporations
Shipyards (building and repairing) and Marine Terminals
Architects and Engineers
Homeowners and Rental Property Managers
Realtors, Mortgage Companies and Other Lending Institutions
Public and Private Schools, Colleges and Universities
Local Municipal and State Government Agencies
U.S. Army, Navy, Air Force, Marines and Coast Guard
Departments of Defense (DOD) and Energy (DOE)
Departments of Homeland Security (DHS) and Transportation (DOT)