---
Sen. Tim Kaine, Rep. Rob Wittman push to boost funding for shipyards (Re: Daily Press)
In the News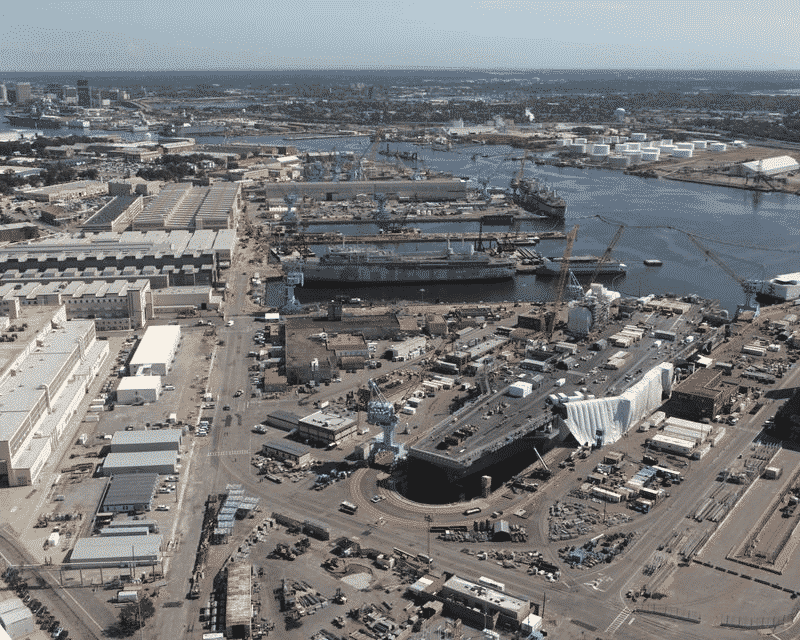 Norfolk Naval Shipyard is an early participant in the new Naval Sustainment Systems-Shipyard program, which aims to link private sector and government best practices to streamline planning work and securing supplies. (Courtesy of Elizabeth River Project)
Members of Congress from both parties, including Sen. Tim Kaine, D-Va., and Rep. Rob Wittman, R-Westmoreland, want the Navy to put a long-term, $21 billion plan to improve its in-house shipyards on a fast track.
They've introduced bills to appropriate all the money now — and to set another $4 billion to help the private shipyards that build and repair Navy ships finance improvements to their facilities.
Fully funding the $21 billion cost of the Navy's 20-year Shipyard Infrastructure Optimization Program (SIOP) for its four shipyards — including Norfolk Naval Shipyard — means the Navy can step up the pace of work on improvements at the yards, rather than parceling out projects over two decades, the bills' sponsors say.
"If we could do something significant so that the optimization plan didn't have to cross its fingers with every annual appropriation … that would be a different matter," Kaine said.
Kaine said he and his colleagues also believe it was important to help the private yards that build and repair Navy ships, noting these yards are a vital part of the Hampton Roads economy.
"Our shipyards' aging infrastructure fails to provide the capacity, configurations, or equipment necessary to maintain fleet readiness … we can build all the ships we want, but if they are tied at the dock due to maintenance backlogs they don't do us much good," Wittman said.
The four in-house Naval shipyards are responsible for maintenance on nuclear carriers and submarines, but only 12 of their 17 drydocks are big enough to handle Virginia-class submarines, and only seven can handle the newest Block V Virginia class submarines, which are 83 feet longer than the Virginia-class boats. The new Columbia-class submarines on which Newport News Shipbuilding and Electric Boat are getting started building are even bigger.
Norfolk Naval Shipyard is halfway through a three-year, $200 million renovation of its Dry Dock 4, to make sure it can overhaul all Navy submarines. This work was an early SIOP project and the largest at the time.
In addition, Norfolk Naval Shipyard is an early participant in the new Naval Sustainment Systems-Shipyard program, which aims to link private sector and government best practices to streamline planning work and securing supplies.
It launched a pilot program for workers assigned to the submarine USS Pasadena that include daily production meetings to identify problems causing delays and focus on fixes, Vice Adm. William Galinis, commander, Naval Sea Systems Command, said in a recent message to the yard's employees.
The Pasadena program includes a new goal tracking system for zone managers that sets weekly milestones for work teams.
A Government Accountability Office report last year reported that three-quarters of an aircraft carrier and submarine maintenance projects at the yards were late between 2015 and 2019 — in all, that kept carriers and submarines out of action for 7,424 more days than planned.
The Los Angeles-class submarine USS Boise waited for pierside in Norfolk for nearly four years because there wasn't enough space at a Navy shipyard for it. The Boise has since moved on to Newport News Shipbuilding, which is getting back into the business of maintaining and overhauling nuclear subs.
The Newport News yard could be among those able to tap a new $2 billion fund to fund improvements at shipyards that build new ships for the Navy. It is the only yard that builds nuclear carriers and shares the work of building nuclear submarines with Electric Boat.
Besides Newport News and the Ingalls shipyard in Mississippi that is also owned by Huntington Ingalls Industries, this fund would be available to the Austal USA yard in Alabama, Connecticut's Electric Boatyard, Bath Iron Works in Maine, Fincantieri Marinette Marine in Wisconsin, and NASSCO General Dynamics in California.
In addition, the bill would set aside another $2 billion to help fund infrastructure improvement projects at 20 major commercial repair yards, including the BAE, General Dynamics NASSCO, MHI, and Colonna yards in Hampton Roads.
"Shipyards are infrastructure, infrastructure that keeps us safe," Kaine said.
Besides Kaine and Wittman, the bills' sponsors are Senators Susan Collins, R-Maine, Angus King, I-Maine, and Jeanne Shaheen, D-N.H., and U.S. Rep. Mike Gallagher, R-Wisc. Rep. Elaine Luria, D-Norfolk, has signed up as a co-sponsor.
---
Written By: Dave Ress